Access to basic financial services is one of those things it is easy for those who live in and with relative comfort and privilege to take for granted. In a typical city or suburb it is difficult to throw a stone and not hit a bank, or a brokerage, or an insurance agency. But across the United States, in many economically disadvantaged urban and rural settings, traditional financial services are scarce or entirely absent. There might be pay-day lenders, or pawn shops, or money transfer stores. In other countries, the postal service might bridge some portion of that gap, but few alternatives exist here. This means that basic economic activities like depositing a paycheck, borrowing for a consumer, auto or home purchase, or obtaining financing to start, maintain or grow a small business go from being simple, almost mindless tasks, to ordeals that stand in the way of household and business formation, growth and prosperity.
Today's interview is with Justin Conway of Calvert Impact Capital. We discuss what it means to be under- or un-banked, what alternative resources are or could be available to facilitate economic activity, and how investing in servicing these communities is good business, good risk-taking, and a good opportunity to create shared value for all stakeholders.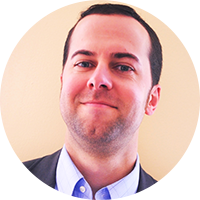 Justin Conway is Vice President of Investment Partnerships at Calvert Impact Capital, a nonprofit investment firm that has helped thousands of people and institutions channel over $2 billion in impact investments to social enterprises throughout the U.S. and around the world. He is also President of Calvert Impact Capital's wholly-owned subsidiary Community Investment Partners that provides customized portfolio services to institutional impact investors. He enjoys working closely with the investors and financial professionals at the forefront of using investment capital for social impact.
Prior to Calvert Impact Capital, Justin managed the Community Investment Program of the Social Investment Forum and Green America. Before that he worked on human and economic rights in both Asia and Central America. He received a Master's in Applied Economics from Johns Hopkins University and a Bachelor's in Sociology and Statistics from James Madison University.
Justin serves on the board of Aeris, which is focused on driving transparency and accountability in impact investing. He has also served on the boards of US SIF, the association of financial professionals engaged in ESG and impact investing, and Green America, dedicated to harnessing our economic power to create a sustainable world. He lives and plays in Washington DC with his amazing wife and daughter.
Selected links on Banking the Un(der)banked
Library Resources